Welcome to Protecting Unwanted Pets, PUP Laguna Beach
PUP Laguna Beach, a non-profit corporation, is the fundraising arm of Laguna Beach Animal Shelter, dedicated to bridging the gap between City funding and the special needs of our animals.
PUP Laguna Beach directs fundraising efforts to ensure that the animals receive the best care possible including medical attention, neutering/spaying and behavioral reinforcement before they are adopted. In addition to fundraising, we are involved in animal issues that are brought to the attention of the City Council, along with working with the Police Department and Animal Control concerning any animal problems within our communities of Laguna Beach and Laguna Woods.
PUP Laguna Beach is made up of a small board of directors who are active volunteers and staff members at the Laguna Beach Animal Shelter. Each member can attest to the heartwarming experience of pairing a once-abandoned dog with new loving "parents" and witnessing tears of joy that often follow. There are also many heartbreaking stories about neglected and abused animals who find their way to the shelter. The Board is privileged to experience firsthand how fortunate we are in the City of Laguna Beach to have a quality, clean and humane shelter providing extraordinary services every day.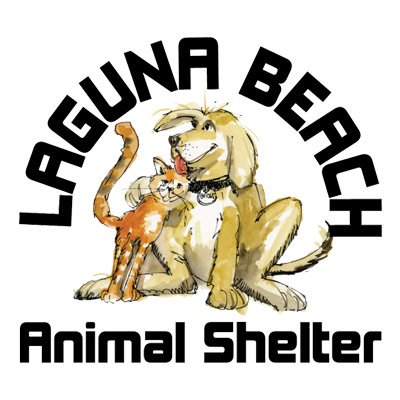 PUP benefits the
Laguna Beach Animal Shelter
Consider leaving a donation for our animals, every little bit goes a very long way. Thank you!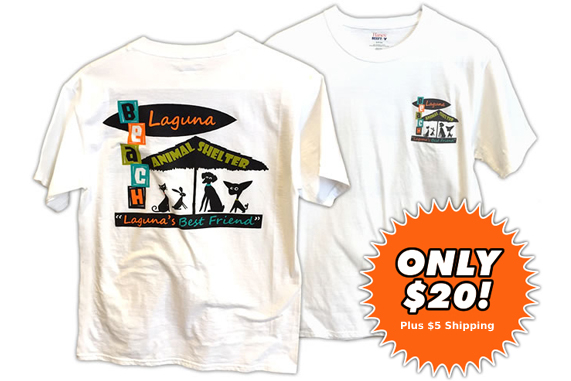 Get an Awesome
LBAS Shirt!
Be the envy of all of your friends when you're strutting around town in your super chic Laguna Beach Animal Shelter shirt with original artwork!