The animal shelter is staffed by three part-time and three full-time employees, three animal services officers, and a group of devoted volunteers.
Our volunteers play an important role in caring for the animals. When you volunteer you will have the opportunity to help with bathing, dog walking, general socialization of the animals, assisting in pet adoptions, maintaining a lost-and-found list, and assisting in the shelter office. The staff and volunteers also offer free information on a variety of pet-related matters, including low-cost neuter/spay, behavior problem-solving, and other pet responsibility issues. Some of our staff and many of our volunteers have adopted the "hard-to-place" dogs and cats.
If you are interested in becoming a volunteer you must be at least 18 years old, and commit to a 4-hour shift each week (generally 9am-1pm or 12pm-4pm), with a minimum 6-month commitment.
You must first complete a volunteer application at the Laguna Beach Animal Shelter.  We are located at 20612 Laguna Canyon Rd.  You will be contacted once a training session is scheduled.   Training sessions occur once each month and are subject to change without notice.  During the two-hour session, you will learn about the facility, staff, and most importantly, the needs of our animals.   Following the training, a police background is required. Please be advised we cannot guarantee shifts, they are based on availability once you have completed your training.  If you have any additional questions, please contact the shelter at 949-497-3552 Monday through Sunday 11 am-to 4 pm.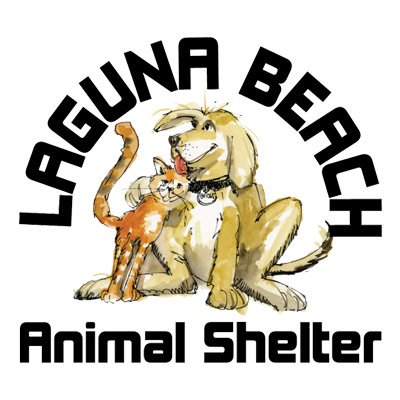 PUP benefits the
Laguna Beach Animal Shelter
Consider leaving a donation for our animals, every little bit goes a very long way. Thank you!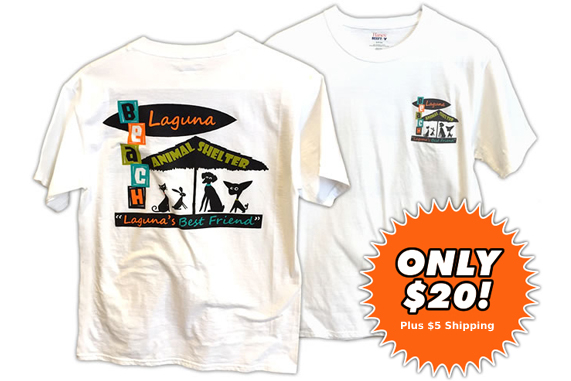 Get an Awesome
LBAS Shirt!
Be the envy of all of your friends when you're strutting around town in your super chic Laguna Beach Animal Shelter shirt with original artwork!