Animal Licenses Registration Fees
Impound and Boarding Fees
Private Facility License Fees
Commercial Facility License Fees
Miscellaneous Information
Orange County Shelters List
Click Here To Download
Orange County Vector Control District
For mosquitoes, rats and mice.
714.971.2421
www.ocvcd.org
City of Laguna Beach ordinances
A list of all the ordinances for Laguna Beach
Click Here to view See title 6 for animal regulations
City of Laguna Woods ordinances
A list of all the ordinances for Laguna Woods
Click Here to view
See title 5 for animal regulations
Orange County Agricultural Commissioner
The Agricultural Commissioner has the responsibility for enforcing State-mandated agricultural and pesticide regulations and certification of commercial weighing and measuring devices throughout the County.
Click Here to view
Vaccinations – Cities of Laguna Beach and Laguna Woods Only
Vaccination Required:
Preventative Health & Maintenance Fleas and Ticks
Daily inspections of your dog for fleas and ticks during the warm seasons are important. Use a flea comb to find and remove fleas. There are several new methods of flea and tick programs. Speak to your veterinarian about these and other options.
Heartworm
Heartworm is a parasite which lives in the blood of a dog's heart and blood vessels. It is spread through mosquitoes. As a mosquito bites an infected dog, it sucks out the blood containing the heartworm microfilaria. Once in the mosquito, the microfilaria develops into infective larvae. Heartworm disease can then be transmitted when it bites an unprotected dog. Preventative treatments are available to control heartworm, but dogs
MUST BE TESTED first to determine if they are already infected. Contact your veterinarian for more information.
Spay Your Female Dog – Spaying your female dog is a MUST! There is no good reason for having an unspayed female.
Click here for more
Neuter Your Male Dog – Neutering your male dog will help avoid behavioral problems in the future as well as make your life and your dog's life less troublesome.
Click here for more
Laguna Beach Veterinarians
Laguna Beach Animal Hospital
460 Forest Avenue, Laguna Beach, CA 92651
20372 Laguna Canyon Road, Laguna Beach, CA 92651
Arch Beach Veterinary Clinic
2900 S. Coast Hwy., Laguna Beach, CA 92651
Aliso Beach Animal Clinic
30816 Coast Hwy., Laguna Beach, CA 92651
Laguna Beach Veterinary Medical Center
1855 Laguna Canyon Road, Laguna Beach, CA 92651
Low Cost Spay/Neuter & Vaccination Clinics in OC
11901 Gilbert Street, Garden Grove, CA 92841
1870 Placentia Avenue, Costa Mesa, CA 92627
Trinity Animal Hospital / Affordable Spay & Neuter
24861 Alicia Pkwy., Ste. D, Laguna Hills, CA 92653
Email: info@affordablespays.com
13252 Euclid St., Garden Grove, CA 92843
16540 Harbor Blvd., Suites A&B, Fountain Valley, CA 92708
Laguna Beach Animal & Wildlife Organizations
Breed Specific Rescue Group
Breed Specific Rescue Groups
Using Google Search is the best option to find specific breed rescue groups.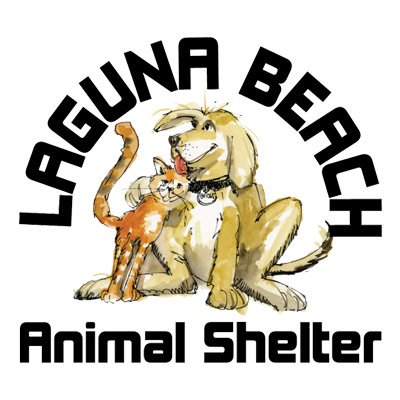 PUP benefits the
Laguna Beach Animal Shelter
Consider leaving a donation for our animals, every little bit goes a very long way. Thank you!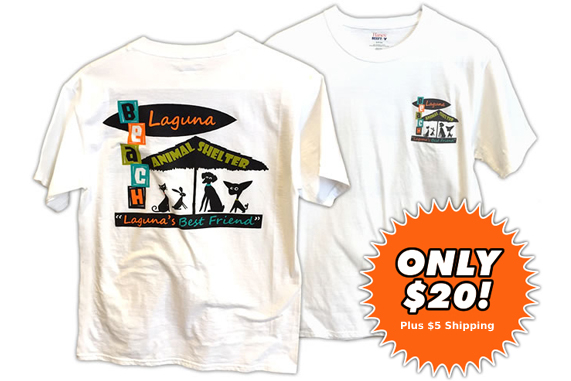 Get an Awesome
LBAS Shirt!
Be the envy of all of your friends when you're strutting around town in your super chic Laguna Beach Animal Shelter shirt with original artwork!