In the event you have an animal emergency in the Cities of Laguna Beach and Laguna Woods ONLY, please call Animal Control at 949.497.0701 and press "2" for an operator
"I found a baby bird or an injured bird, now what do I do?" If you reside in the cities of Laguna Beach or Laguna Woods, contact Animal Control at 949.497.0701 and press "2".

Pacific Wildlife Project (Birds)
Phone: 949.831.1178
www.pacificwildlife.org

Wildlife Wetland Center
Phone: 714.374.5587
www.wwccoc.org
Emergency Medical Information
Animal Emergency Clinic
* open after regular business hours, weekends and holidays
949.364.6228
28085 Hillcrest
Mission Viejo, CA 92692
Veterinary Medical And Surgical Group–OC (VMSG-OC)
Our emergency services are available 24/7, 365 days a year.
https://www.vmsg-oc.com/site/home
Phone: (949) 334-5819
Fax: (949) 201-4101
31896 Plaza Drive, Suite C-1
San Juan Capistrano, CA 92675
Pacific Care Pet Emergency & Specialty
2572 White Road
Irvine, CA 92614
949.653.2846
Crown Valley Animal Care Center
* open 24 hours
949.495.6744
28892 Crown Valley Road
Laguna Niguel, CA 92677
www.crownvalleyah.com
American Association of Poison Control Centers (FREE Call)
www.aapcc.org/DNN 800.222.1222 America's poison centers are open 24 hours a day, seven days a week to help you. The Poison Help hotline 1.800.222.1222 serves as a key medical information resource and helps reduce costly emergency room visits.
Call: 800.222.1222
Poison Control
www.aspca.org As the premier animal poison control center in North America, the APCC is your best resource for any animal poison-related emergency, 24 hours a day, 365 days a year. If you think that your pet may have ingested a potentially poisonous substance, make the call that can make all the difference. A $60 consultation fee may be applied to your credit card.
Call 888.426.4435
Disaster Preparedness for Pets
The Humane Society of the United States
www.hsus.org
The Humane Society of the United States has information on their website to help you prepare and protect your pets before, during and after a disaster.
Emergency Supplies and Traveling Kits
The American Society for the Prevention of Cruelty to Animals
www.aspca.org
Keep an Evacuation Pack and supplies handy for your pets. Make sure that everyone in the family knows where it is. This kit should be clearly labeled and easy to carry. Items to consider keeping in or near your pack include: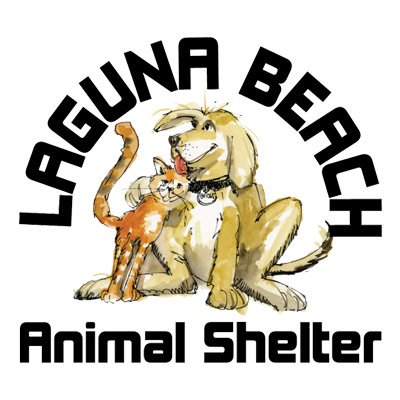 PUP benefits the
Laguna Beach Animal Shelter
Consider leaving a donation for our animals, every little bit goes a very long way. Thank you!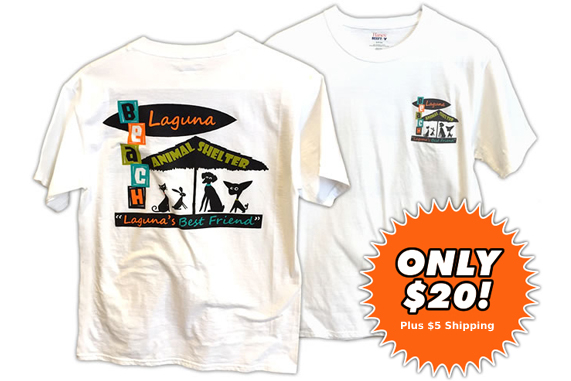 Get an Awesome
LBAS Shirt!
Be the envy of all of your friends when you're strutting around town in your super chic Laguna Beach Animal Shelter shirt with original artwork!