"Want to Talk About Adoption?"
At any one time our shelter houses dogs, cats, puppies, kittens, and a small number of other adoptable animals, such as birds and rabbits. Our animals are held for seven days upon arrival. This holding period gives us ample time to locate an owner if there is one. If animals remain unclaimed, they undergo an assessment of their health, temperament, and behavior for adoption purposes.
Dogs and cats that come available for adoption are seen by a veterinarian, bathed and groomed, vaccinated, de-wormed, micro-chipped, and neutered/spayed, in addition to receiving any other needed medical treatment. The animals put up for adoption are healthy and have no serious behavioral problems.  They will remain in the care of staff and volunteers until they go home with their new families.
In all our adoptions, our goal is to place our animals in the most appropriate matches possible–matches with the greatest chance of permanent, rewarding, and loving relationships between animals and owners. For this reason, and for the protection of both our animals and the people who adopt them, our adoptions are governed by an application and approval procedure and by certain adoption criteria. This approach to adoption has kept our return rate at close to 5%. In contrast, the national average of shelter return rate is nearly 50%.
Our adoption procedures are designed to make sure that both you and the animal you adopt are in the very best situation possible. Here's how the adoption procedure works:
Included with each adoption:
Note: All cats adopted must leave in a carrier (Yours or you may purchase one for small fee)
Our current adoptable animals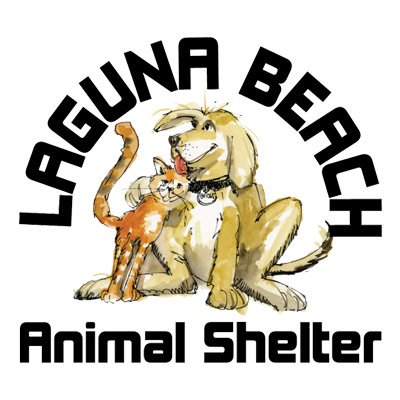 PUP benefits the
Laguna Beach Animal Shelter
Consider leaving a donation for our animals, every little bit goes a very long way. Thank you!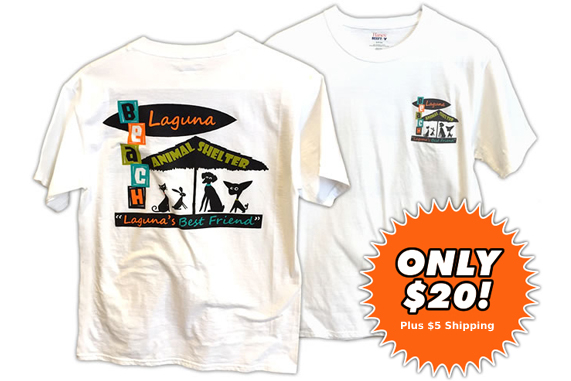 Get an Awesome
LBAS Shirt!
Be the envy of all of your friends when you're strutting around town in your super chic Laguna Beach Animal Shelter shirt with original artwork!