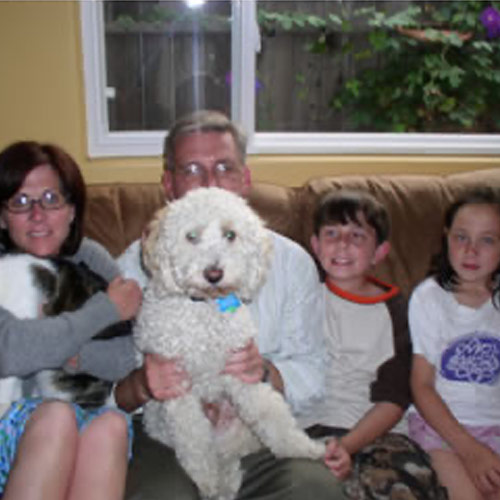 Thank you LBAS for Curley Ace. We are forever grateful for organizations like yours that respect the dignity of innocent animals. We appreciate the adoption process. It requires patience and knowing good things come to those who wait. From the moment we met Curley we were eager to provide a home for him. It has been so rewarding for our children to be part of something so valuable. We have kept the name because it tells the story of a smart, adorable dog who was named by two shelters as he struggled to find a home. It reminds us of all he must have gone through just to finally receive what he is so willing to give–love.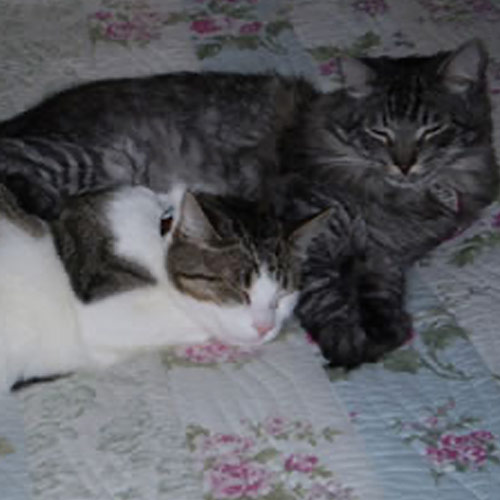 After having to put down my beautiful cat Puddy who was 17, I was heartbroken to lose my lovely companion. I decided to get another cat but knew that replacing my sweet little girl Puddy would be difficult. I went to the Laguna Beach animal shelter and Nancy and Laura both helped me to find another cat to adopt. His name was Scrappy and he was so cute. I immediately took to him and wanted him for my own but had to wait a week or so until some details were arranged. I took him home but he wasn't all warm and cuddly and questioned if he was the right cat for me. I changed his name after about 2 weeks to Romeo and wondered if his name would fit.
The bond between us didn't grow quite as fast as I wanted and I was gone during the day for over 9 hours and so I decided to get him a companion of his own. I adopted Beauregard at only 13 weeks about 2 months after Romeo. Within about 1 month after I brought Beau home, Romeo bonded to me and started purring when he was with me. His name truly fit him now. Beau was quick to bonding with me and eventually bonded well with Romeo too. They are both a great joy to me and I love them so much. Both Laura and Nancy helped this transition to go smoothly and they both took time to get to know what I was looking for in adopting another pet. My experience at the Laguna Beach animal shelter was a great experience.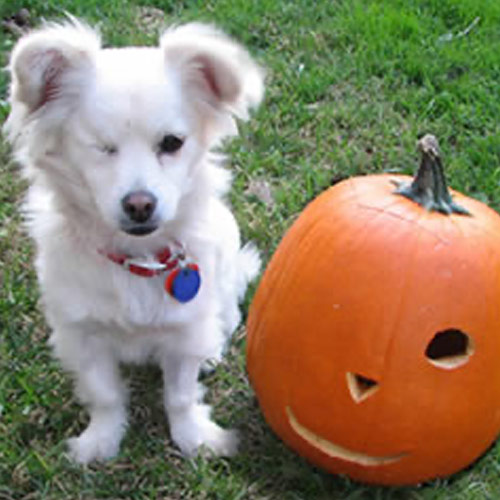 This darling little dog was brought into OCAS in great pain, with a terrible eye injury. They estimated that her injury had occurred three weeks prior and thought she had been wandering the streets in pain all that time. She was traumatized and filthy. The kind folks at LBAS rescued her from OCAS and provided her with immediate medical attention and kind, loving care. The volunteer that bathed her said they didn't even realize she was a white dog until they gave her a bath. The doctor estimated that she was less than ten months old. Once her eye was removed and her pain was relieved she turned into such a sweet little dog, they named her Sugar.
I now believe in love at first sight. I was visiting LBAS with a friend when I first saw this happy little puppy in the medical hold pen with stitches across her eye and the big elizabethan collar on. Despite everything she had been through she was cheerful and loving. We were not looking to get a dog since we already had a big beautiful golden retriever named Emma at home, but that all went out the window when I first saw her. We just had to rename our little one-eyed dog Patch.
Patch and Emma are sisters and best friends. Emma is three years older and outweighs her by sixty pounds, but Patch calls the shots around here. In fact, our neighbor says that Patch rules the entire cul-de-sac. Patch and Emma love to play tug-of-war and what Patch lacks in size she makes up for with energy, ferocious growling and intimidation. She usually wins. These two do everything together and are always cuddled up with each other.
Our family is so grateful to all the wonderful staff, volunteers and benefactors of LBAS for saving this wonderful little dog that we love so much.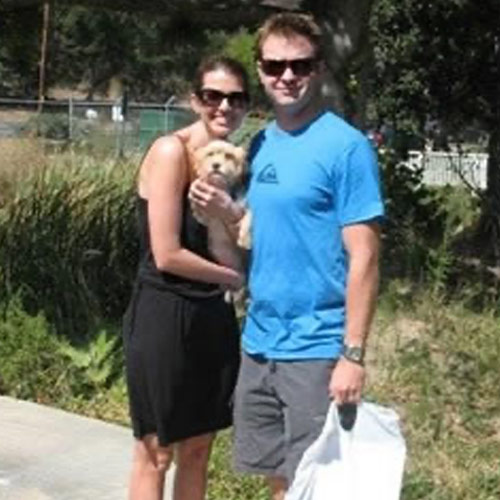 We thought we'd send a few more pics of Tito (now named Ferris) and give you guys an update of how he's doing.
We've had him now for about 2 months and he's only had a handful of "accidents" in the house. He learned really quickyl from Shelby where he is supposed to go when he needs to relieve himself. His personality could not be better for living with the spoiled princess that is Shelby. It took a few weeks before they were both comfortable with each other, but now they are good buddies. They play tug-o-war, chase and wrestle quite a bit. We couldn't be happier with how Ferris has adjusted to the new home and new friends. Here's a few pics to give you an idea of his new "lifestyle."
When "Tito", a ten week old terrier mix, was discovered on the streets of Tijuana, Mexico, he was in bad shape. He soon found a new home in the U.S., but unfortunately needed more care than his rescuers could provide. "Tito" was brought to the Laguna Beach Animal Shelter where he received medical care, grooming and training for the first time and was given a second chance to thrive with a new family.
From Tito's new family: Well, we got him home after a quick stop at PetSmart for a harness and a few other supplies and on the way home, we decided to change his name to Ferris. Once we got in the door our other dog Shelby was eager to lay down the law and let Ferris know that everything in the house was her's. The chewies, the toys, the couch, the people… all hers. Ferris has been really good with her and has allowed her to lame claim to everything.
There have only been two mini scuffles over a milk bone that Shelby was busy protecting instead of eating. He's only had 2 accidents in the house, but some of that is a result of Kelly being home and taking him outside all day. He's gone on a few walks and a couple of car rides already and so far he has been great… Really mellow and even keeled. Here are a few pics of him and Shelby getting to know each other.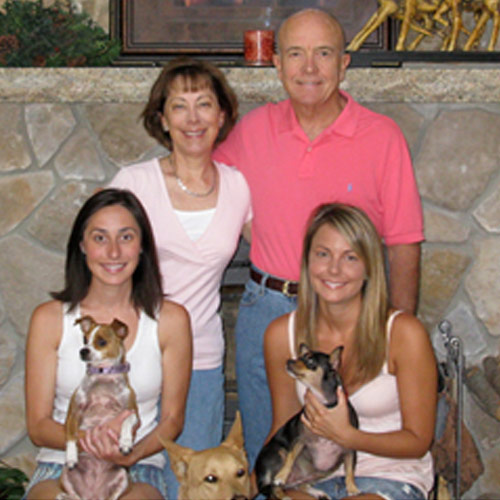 My name is Robin Rowland. I adopted two Chihuahua mixes from your shelter in September/October last year. At the time their names were Amber and Onyx, both female and they had come in together.
I just wanted to let you know they are doing great and seem to be very happy pups. At the time of their adoption we lived in Laguna Niguel, but now we are back in my home town of Hayden, Idaho. We also have a Shepherd mix named Joey who gets along great with the little pups. We have 5 acres and horses. The dogs love to sit in the backyard and watch the horses. We go on lots of walks in the forest and around the lake, which the dogs love! Their names are now Mocha and Pumpkin. Just wanted to give you an update if there is anyone still working there who remembers these little girls!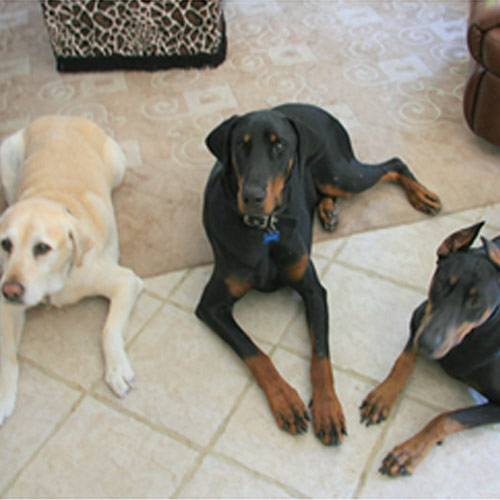 My name is Kathryn Taylor. I adopted "Gretchen", a Doberman, from your shelter around January of last year. You would have known her as "Daisy".
I just wanted to let you know that she is doing great, and has been a wonderful addition to our family. You may not remember this, but Gretchen was rather dog aggresive when I adopted her. In fact, she wasn't too happy about meeting Ed, our yellow Labrador, and let us know it in no uncertain terms! Well, Gretchen has matured beyond expectations. She and Ed became fast friends, and she has been such an incredible dog that when we came across another Doberman at the Irvine Shelter a year later, we couldn't resist adopting him too. Today, Gretchen, Gunther (our latest Doberman addition) and Ed make great housemates. These pooches love nothing better than sunny days at the dog park, chasing tennis balls, and afternoon naps on the couch.
Gretchen has also become an ambassador for the Doberman breed, in her own little way. If you go to www.antonioanimalhospital.com and click on Pet of the Month you will see a profile on Gretchen and Gunther. She has been such a favorite at the vet clinic that they wanted to feature her.
I can't thank you enough for letting me take this beautiful dog home. Our lives have been infinitely enriched by having her with us.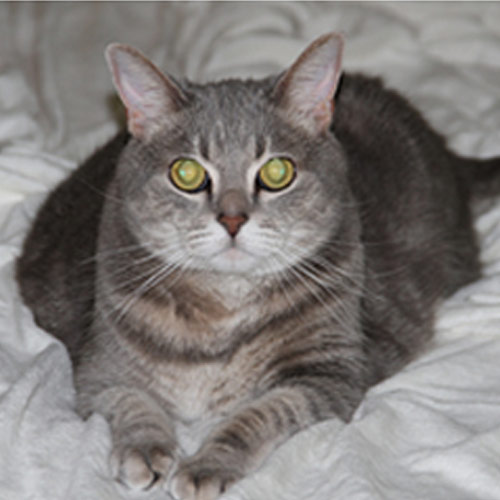 PoohBah has been a great choice for a pet. He is so loving and sweet and a big cuddler. So many people want kittens and I wanted to give a good adult cat a home. Sometimes people forget the adults and just want kittens. I think the adult cats are calmer and tend to not get on everything kittens do. He deserved a good home with someone who would love and care for him. I wouldn't consider any pet unless it was a rescue. He has my heart and now I can't wait to get home to see him.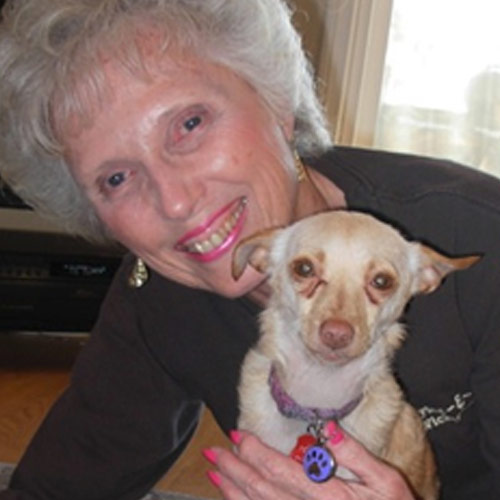 My search for that "special companion" took a little time, but the outcome was so perfect! I had gone to several shelters and checked various sites on the internet. While on the internet I noticed a very sweet and forlorn looking little Chihuahua mix female doggie. Although I kept checking others I found myself returning to this particular picture. I was sure she needed a Mom and a loving home. So I visited her at her residence at the time, the Laguna Beach Animal Shelter.
After visiting other shelters I felt qualified to rate this particular shelter. I was immediately impressed with so many things. First of all the courtesy from the staff. They were welcoming and wanted to help you find your "special friend". They actually try to match their animals with the person that is looking for a pet….at least that is what I felt from them. Then the cleanliness of the pens and the entire facility was outstanding. They know their animals personalities and the type of home they would do best in. I truly appreciated this type of guidance and thoughtfulness.
Needless to say I found my little "Daisy Mae" while visiting her at the LBAS. She is amazing and so sweet and smart. She has required zero training. She so wants to please me and is especially loving. She needed me as much as I needed her. We are a perfect fit and she brings me such joy! I feel truly blessed to have her in my life…..now for four months! Turns out she is a mix of Chihuahua and Terrier. She is adorable with one ear that flops down and she has such pretty coloring and eyes that twinkle and melt your heart. She is very timid and gentle and seems quite happy to finally have a Mom!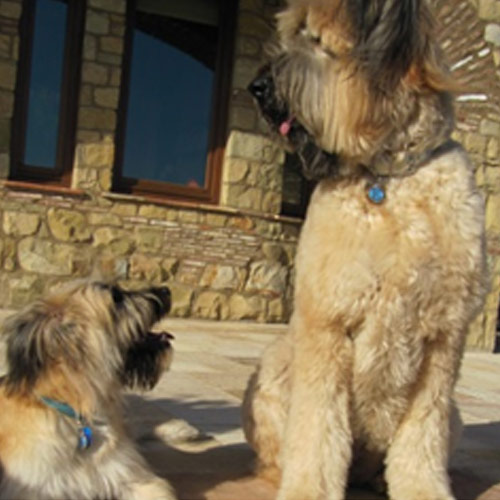 We are so delighted to be the new family of Ms. Ava Astor, previously known as Tesla. We ventured into the Laguna Beach Animal Shelter one day last February after our grandma lost her beloved dog; we just wanted to see if there was a furry friend to help fill the void in her heart. But instead… we found the most fabulous and hysterical, ink-blotched tongue little girl for our home! It was love at first sight, and the application was filled out within minutes. We went to visit her every day while patiently waiting for her medical hold issues to be resolved; it was well worth the 3 week wait. Nancy and all the wonderful volunteers at the shelter took such beautiful care of her and welcomed us in everyday to play, get and give kisses.
Ava came home on March 17th and although we could tell she loved us, it took a little while for her to get her princess on!! She was so active and sweet at the shelter but at home we had some little adjustments to work on with timid behavior. Ava seemed terrified of loud or surprising noises and cowered from people's hands coming toward her to pet her too quickly. Sometimes it took a bit of coaxing to have her come out from behind tables and chairs after the doorbell rang. Ava is still a baby just 6 months old, so we patiently assured and worked with her daily. I am so happy to say, she is now very secure, incredibly joyous and simply angelic. Now she is the first one to charge you when you walk in the door for hugs and kisses, can't wait for the UPS man with cookies and jumps in the car to go anywhere anytime and loves meeting new friends. Her favorite place is Madison Square Garden Café for breakfast.
Ava has been the best addition to our home. Besides our two daughters who are crazy for her we have a big 5 year old Briard, Elle, who adores Ava like she is her own. It took about a week without any anger or outbursts to let Ava know who the boss is. Now she lets Ava have the 2nd half of her cookie right out of her mouth and shares her bed, even though Ava has a cozy bed of her own. They play daily tug-of-war games, chase balls, chew bones and Elle watches Ava cautiously when they are out on walks to the beach. They are sisters and inseparable. Thank you to our friends at The Laguna Beach Animal Shelter. Your compassion and hard work to give these animals the brightest futures is greatly appreciated by our family.
We can't imagine life without AVA! The Gordon Family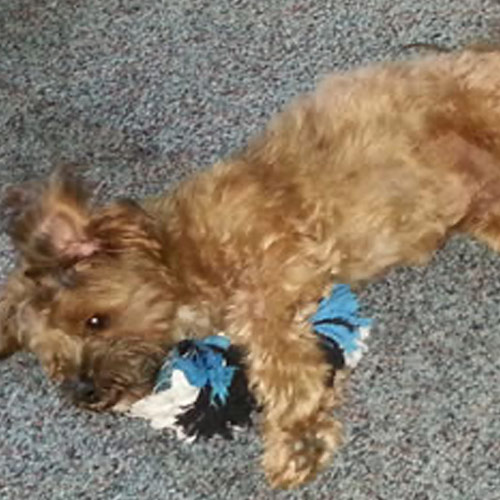 Mugzy (aka Yeti) came into our lives courtesy of the wonderful staff at the Laguna Beach Animal Shelter. A short time after he'd lived with us, my wife asked me how did I know he was going to be so good. I looked at her and said, "I knew he was going to be good but I didn't know that he was going to be THIS GOOD"! We think that captures what Mugzy is to us. He's GREAT!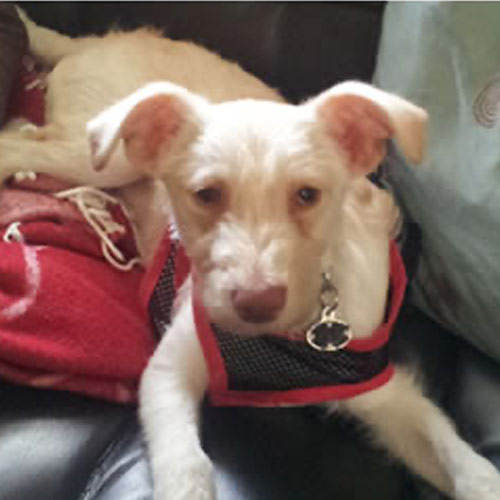 My name is Patti Clarkson and I wanted to take a moment to thank you for the new addition to our family. My 14 year old shelter rescue had just passed away and I was shattered. Tears in eyes, I gathered up Rio's really great things that I wanted to share with our local shelter: toys, food, beds; things that I thought new adoptive parents could use. I was greeted when I walked in and you gratefully accepted the things you thought you could use. I made the delightful "mistake" of taking a peek at the dogs. One seemingly empty run had the name Thomas J on it. I called his name and a little angel poked his head out of the dog door, tilted sideways. I was hooked. You were quite serious about finding the right forever home for Thomas J, and I appreciate that. I cannot tell you what a happy addition he is to our family. You clearly love the animals in your care and it shows.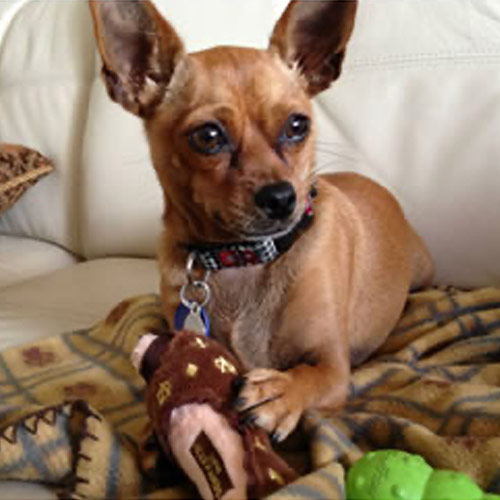 Craig and Dolores Jaunzemis
Roo has been a great dog, and has gotten along well with our other two dogs, Jake (golden) and Lucy (terrier), both seniors. Since bringing Roo home, we have been (re)training all three dogs on basic obedience and socialization, which has been helpful. Roo loves to play, run up and down the stairs, and take walks around our neighborhood. We selected Roo in large part because our daughter had earlier brought home Roo's Laguna roommate, Snoop (now "Franklin"). We recently took a trip to SF and Roo and Franklin had a week to spend together. We know that Roo was a favorite of the shelter staff, and nearly did not survive head trauma that occurred while homeless. We feel very lucky to have her and appreciate that you made her available to our family. Thank you again for all your great work!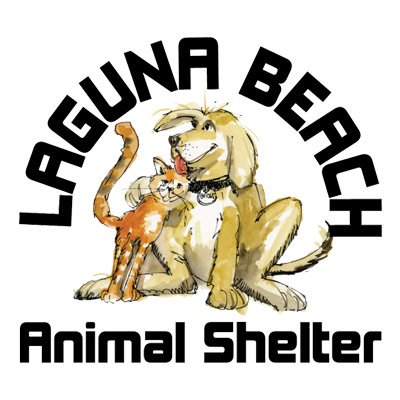 PUP benefits the
Laguna Beach Animal Shelter
Consider leaving a donation for our animals, every little bit goes a very long way. Thank you!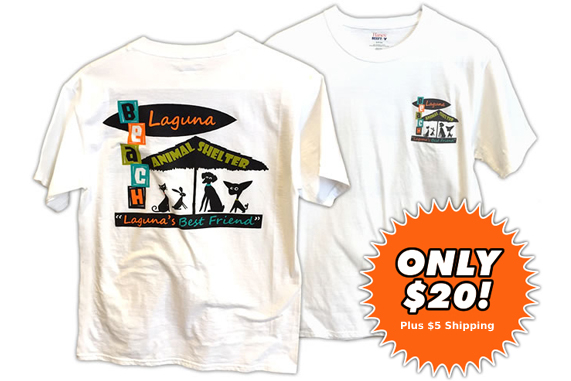 Get an Awesome
LBAS Shirt!
Be the envy of all of your friends when you're strutting around town in your super chic Laguna Beach Animal Shelter shirt with original artwork!